Linking up with
Lauren
and
Tiffany
again for Tuesday Topics.
This week we are sharing our 9 favorite blogs.
Can I just say how hard this was. I wrote down a list of my favorite blogs, and it was wayyy more than 9. So I had to cross many off the list. But here are my 9 blogs that I read all the time.
Ashley @ Little Miss Momma
My friend Sasha told me about this blog. I love it. Such a beautiful writer! Her honesty is true and pure.
Taylor @ The Daily Tay
This girl is hilarious - I can usually count on a laugh or five with her witty and humorous attitude.
Shauna @ Life Captured
She's my sister so what else should I say? She is the bomb and so is her blog.
Autumn @ "Mrs." in the Making
Autumn keeps it real with her experiences and stories on being a newlywed!
Katie @ Katie Did What
Katie's blog is uplifting and happy, like her. I always get a kick out of her posts!
Erin @ Living in Yellow
Another witty personality that will be sure to make anyone laugh!
Jessica @ Little Baby Garvin
Another blog my BFF told me about. We all followed along her pregnancy with her and those amazing chalkboards!
Kelle @ Enjoying the Small Things
Kelle is an amazing writer and always has such a positive outlook on life. And she teaches some great lessons through her blogs! Truly inspiring.
Ashley @ Run With Me
I love Ashley's post - love her variety and view point on things.
Ok, so like I said these are most of my "don't ever miss a post" blogs. And, there is quite a variation too - I like to keep it interesting. Thanks Ladies for sharing your stories with all of us.
Happy Tuesday!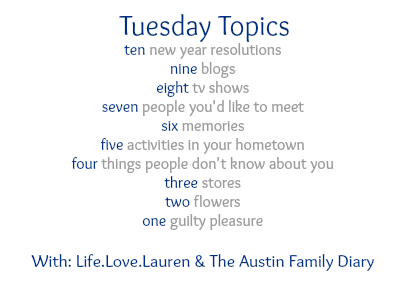 xo,
Lindsay