This week has been major catch up at work. Note to self: Somehow, most of my work does not do itself when you are gone for 9 days. Sheesh. I wonder why not? Although, I am happy that everyday I am getting a little more done and my pile is getting smaller. Lets hope it stays that way. Finger Crossed.
I am really amazed That some people are so selfish. I think that some people should be willing to make sacrifices to help others out not only when something happens, but all the time. Maybe we should take a step back and look at situations and reflect on what we may or may not be doing - and if you don't like what you see, you should change it.


This life of mine keeps throwing me curve balls. I have learned we just have to have faith and go along with the curve - not stress and worry about what we don't know. We need to cherish everyday, be thankful and live in the moment. I am mean really, why worry about yesterday? We can't change it. Why worry about tomorrow? Who knows what it will be like.
That
lovely
list
of New Years Resolutions? Yeah, they totally haven't been happening -well most of them anyways. But
most
, heck, all, of them are work in progress - so I would say I am 5 out 10 on starting the
process
... not too shabby, right?
I know I know - I am such a slacker.
But hey, I still have over 340+ days to keep on trying! : )
This season of American Idol should be interesting. I am not a fan on Nicki Minaj - like at all. Ugh. I am fan of the show though, so I will try my best to stick with it and hopefully I can put up with her all season. I think Mariah is going to be a great judge and mentor. it should be interesting between the two divas when shows go live.
I am so so sad
That
Chip Kelly
is leaving
left yesterday.
(Chip Kelly is was the head football coach for the University of Oregon Ducks)
Such a travesty for Oregon. He is leaving highly nationally ranked college football team for the Eagles. Really Chip?
Really?
I must say you have made Oregon proud with your coaching skills. You are leaving behind a fantastic team that will continue to be amazing even after your departure. You did us proud in the four years you coached, we went 47- 6. And, we had 4 straight BCS bowl appearances. Now the question is, who will fill those very big shoes left by Coach Kelly? Good Luck in Philly Chip. I am sure the visor sales will skyrocket.
So Long Buddy.
Happy Friday Eve Friends! Now, go link up with Katie & Jena!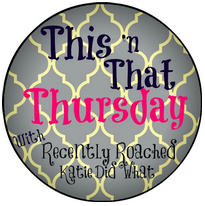 xo-
Lindsay
Saw this, and really liked it! Because it is true.