I have seen these socials around the blog world and thought I would join in this week. Plus it's about Halloween, how could I not?!
I am linking up Ashley & Neely for this week's Sunday Social.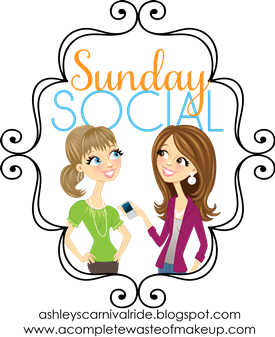 1. What was your favorite H

alloween costume

as a kid? (pictures??)
I loved a lot of my Halloween costumes as a child, but my favorite was when I was a grape when I was in grade school. Think lots of light purple balloons blown up and pinned all over me. I even had a cute stem on my head that my mom made out of felt. I bet you she still has it in a box somewhere. I don't have any pictures accessible - bummer. It was pretty stinking cute tho.
2. If you could go back and dress up as something what would it be?
Oh geez,maybe a girl pirate or something? I have never really thought about this, I always loved my costumes.
3. Favorite costume as an adult? (pictures)
I have only dressed up a couple times as an adult, so I will go with when I was a mobster.... Pinstriped vest, gangster hat, and even a fake cigar to boot.

Jenni & I '08
Me, Sasha, & Jenni '08
Jenni & I ... again. '08
But then there was that time I was a 1920's flapper:
Loved my hair - too bad an hour later 75% of the curl was gone!
Jenni, Me, & Sasha '09
Halloween 2009 - Jenni, Me, Jenn, & Sasha '09
4. What is your favorite Halloween candy?
Hands down, Reese Peanut Butter Cups (my fav year around). Plus, the packaging is orange and yellow - doesn't that just scream... Halloween candy?
5. What is your favorite Halloween memory?
I can't think of one Halloween that stands out more than others, but I do know I love seeing my nephews and nieces all dressed up year after year. My brother and sister in law always load up the kids and take them over to my sisters, my parents and I are always there also. It has become a family tradition - everyone goes to
Shauna's
(& hubby) house. We hang out - take pictures, then the kids go treat or treating around their neighborhood. It is always great to see them before and after.

Katie, Bryan, Casey, Jake, and Gage 2009
Casey, Katie, Bryan, Gage, Alyssa, & Jake 2010
Dad (Papa) with Casey & Katie 2009
Gager & Me 2009
Mom (Grandma) and Casey 2009
6. What's your favorite scary movie?
I used to be a scary movie lover, but that ship has since sailed... I am cheesy and love ABC family Halloween movies - and I always love to watch Hocus Pocus around Halloween.

Don't forget Binx.
Happy Sunday Night!
-Lindsay