You guys, the weather has been BEAU-TI-FUL here lately. The sun has been shining for days.... and today, when I got off work, it was 71*! Yah. Keep it up Mother nature, Keep it up!
Thanks so much.
So.....my blogging has been very sporadic these days, but that doesn't mean I don't check my dashboard daily (okay, lets be serious, I check it multiple times a day, everyday) and read all your fabulous blogs! Needless to say, I was happy to see that
Lauren
&
Tiffany
were hosting another round of Tuesday Topics and I thought I would join in. Hopefully this time, I will actually post all 10 weeks.
Here's what the topics are this time: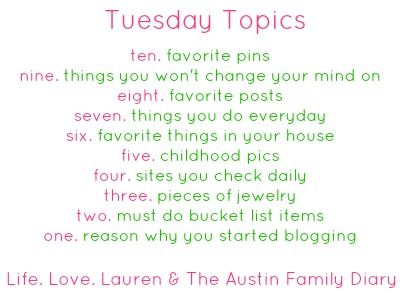 Head on over to their blogs and join this super fun link up!
Here are my Top 10 Favorite Pins (right now):
This is so me.... I always say
whatever
and I am usually late!
Katie, Alyssa, & Sydney need a shirt and/or onesie like this:
Well....My monday nights are free now.....
Seriously, how cute are these? I want a pair, like yesterday.
Love this! So true.
This says it all.
Who is with me on this one, ladies?
This will be happening on my wedding day. Love Love Love this.
It is. Just wait for it.
Those are some of my favorite pins these days.... what did we do before pinterest took over our free time?! You can follow me on Pinterest here.
Happy Tuesday!
xo-
Lindsay