You guys, today is my Friday. That makes me a pretty happy girl.
Yay for a 3 day weekend...
I am going to go spend with my bff and her beautiful daughter.
Woot Woot.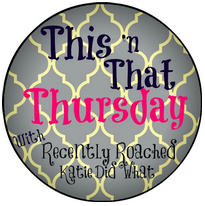 I am going to the dentist THIS afternoon for a filling. I am totally freaking out. I am petrified of the dentist. I hope I'm freaking out for nothing and all will go smoothly... : /
Send good vibes my way pleeeease.
I am so disappointed THAT Hostess is out of business.
I have been craving some mini crumb donuts and they are no where to be found. I don't want some weird off brand either. Psh.
I am so excited that THIS weekend I am visiting my bestie and her beautiful daughter in Portland. Thank you weather for cooperating. I am looking forward to hanging out with them.
It is hard being 4 hours away from your best friend & niece.
I love THAT I had dinner with an old friend Wednesday night and we picked up right were we left off. I am so glad she decided to move back home to Southern Oregon with her (new-ish) husband.
THIS season of The Bachelor is nuts. I love Sean, but his choices? Tierra is still here, come on already. He deserves so much better. I really like Lyndsy and not just because she has an awesome name.
I was totally THAT girl that fell at work this week. Cute new boots and slick flooring really don't go well together. But, I learned that I can do the splits - hahah. Found that out the hard way. Talk about embarrassing - luckily only a couple people saw me rock my moves. lol
THIS whole saving money thing is a lot harder than I thought. My savings account should have a lot more in it, but somehow it doesn't. I swear I have cut back on shopping and sorts - where did that extra money go?
I was pretty annoyed THAT my
post
from yesterday didn't post in the dashboard until 9 hours later. Um, what is with that? Has that happened to any of you guys?
I hope you all have a great weekend.
xo,
Lindsay