Dear Revenge: Thank you for starting again on Sunday,
I have been counting down the days.
Dear 90* weather: It's about time you need to stop seeing Fall,
I thought you had a thing for Summer - make up your mind.
I suggest you choose summer.
Dear Starbucks:

Twelve and a Quarter

teaspoons in a
Grande Pumpkin Spice Latte - Really?
Um, yeah I won't be having another one for awhile.
Dear Best Friend: Thank you for sending me pictures & videos
of Sydney via email & text. Thank you for posting them on
Instagram & Facebook too – they always make my day.
And, I may have stole this from her Instagram.
Look at that face, I just wanna squeeze and kiss it!! ; )
Dear Clinique: I love how your bonus bags always come out
when I am nearly out of something from my 3-step skin care
regimen (because spe
nding $22 on astringent when I get a bag
of filled with goodies makes me feel better
).
Dear Three Day Green Smoothie Challenge: Be kind, be really
really kind to me.

Monday is our day to meet up – I am
determined to do this! Wish me luck?
Dear Huff Post: Thank you for sharing cute things like this:
Hope you all have a great weekend!!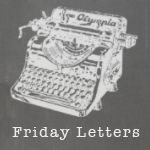 ~Lindsay